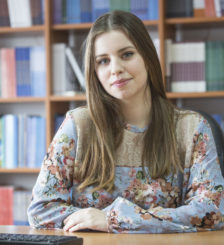 Miljana Rakocevic was born on May 12th, 1996 in Podgorica. She graduated from " Slobodan Škerović" High School, and was awarded with "Luca B" diploma. During her time at High School she was a member of Volunteer Club, and was participating in numerous humanitarian actions and non-govermental trainings. Miljana also finished training on peaceful resolution of conflicts in the " JUSTICE FOR CHILDREN" project, in cooperation with UNICEF.
She enroled at University of Montenegro, Faculty of Law, and is currently at third year of her studies. She attended and finished Judicial training program organised by ADAMAS.
From November 2017 to January 2018, Miljana volunteered at Centre for Monitoring and Research (CeMI). She was also monitoring local elections in Ulcinj ( 2018) .
Miljana is fluent at English and intermediate at Russian and German.