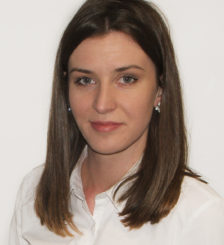 Teodora Gilic was born on September 7, 1992. She completed her basic studies in June 2014 at the Faculty of Political Sciences in Podgorica, as a student of International Relations. In October 2015, she graduated in the department of Political Science.
During the 4th year of the studies, she volunteered at the Center for Monitoring and Research (CeMI).
From January to November 2016, she worked in the Atlantic Council of Montenegro (ACM). During her engagement, she was the coordinator of the round table "Perspective of the Armed Forces Montenegro as a NATO member" held in honor of the founding of NATO on April 4th, 2016. She was part of the 2BS team and thus actively participated in the organization of the sixth political security conference 2BS (http://2bs.me/). Also, she was secretary of the "Security" Journal published by the Atlantic Council of Montenegro.
Since January 2017, she has been engaged in the CeMI as a Communication Officer. During her engagement, she attended a number of trainings, including training on comparative research projects, comparative research techniques, as well as comparative qualitative analysis (QCA techniques), as well as training of long-term observers organized by the OSCE / ODIHR in Sarajevo in the period of 8th -12th of May 2017.
Teodora is fluent in English and Spanish, and also speaks basic French.