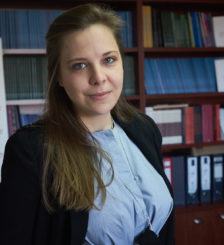 Nina Kecojević was born on December 13, 1992. She obtained bachelor's degree in political science and International Relations at the University of Rome "La Sapienza ", and completed MA degree in International Relations (course: Peace, War and Security) at the University of "Roma Tre".
Kecojević completed several internships at the Embassy of Montenegro in Italy, Global Rights Compliance LLP and Association of Defence Counsel practicing before the ICTY. She worked as Marketing Assistant at the ADR Centre and "La Mediazione" Magazine in Rome and during this period completed Civil and Commercial Mediation Training Programme at the Order of Chartered Accountants of Rome.
She is co-author of the book "Western Balkans at the Crossroads: NATO, KFOR and the Role of Italy" and contributes to some of the leading geopolitical magazines: il Nodo di Gordio, Eastwest and Geopolitica.info.
Nina Kecojević specialises in international relations, strategic and security studies. Her academic research is primarily focused on violent extremism, jihadist radicalisation and prevention through reforms of the penitentiary and school system in the Balkan area.